Workshops
In addition to commissions for films and illustrations I also give lectures and workshops. Below are a some examples of workshops that I've given.
Workshop in Skopje, Macedonia
I gave a three day workshop in Skopje, along with a launch in Macedonia for my picture book "Elsa and the Night". This workshop was titled "Build a world in three days" – and was similar to a previous workshop I gave in Kiehl, Germany (see below…) The idea is to build a set in front of a camera using various tricks such as forced perspective to make it look like a vast landscape. And then the group will animate a change in this scenery – going from nighttime and winter to daytime and summer in this case.
Thanks to Gavroche's Books for arranging this, and to the Swedish embassy in Skopje and the Swedish Arts Grants Committee for funding.
After three very intense days,  working with a diverse group of people – this was the end result:
(I highly recommend scrubbing back and forth along the timeline…)
Workshops at "STDH"/"Stockholm Academy of Dramatic Arts"
I occasionally teach at the Bachelor program for Animation at the Stockholm Academy of Dramatic Arts. This photo is from a workshop enigmatically titled "Abstract lipsync". The objective was to match stop motion animation with prerecorded soundclips in a playful way: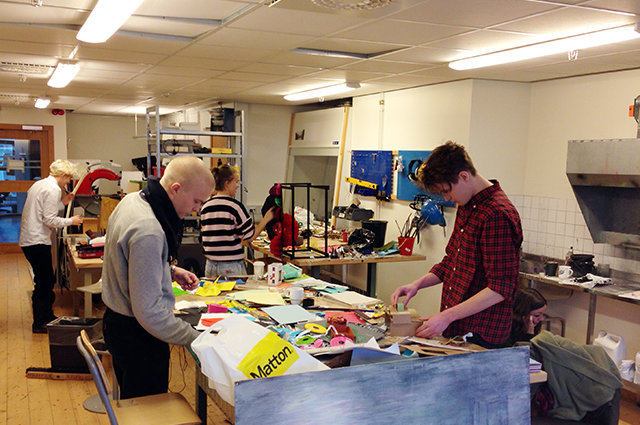 The students produced some really neat films, in my opinion. Four examples below:

Films made by (left to right): Karin Drake, Sarah Gampel, Mimi Fürst and Julia Helander.
Workshop at "Muthesius Kunsthuchschule" in Kiel
This workshop was titled "Build a world in a week" – A group of 20 students from various programmes including photography, fine art and graphic design spent a week building up a landscape in one of the school's studios. They then animated a seasonal change – from winter to summer – within that landscape.
Some photos below:
And here's the final result!
(I highly recommend scrubbing back and forth along the timeline…)