Workshops
In addition to commissions for films and illustrations I also give lectures and workshops. Below are a couple of examples of workshops that I've given.
Workshops at "STDH"/"Stockholm Academy of Dramatic Arts"
I occasionally teach at the Bachelor program for Animation at the Stockholm Academy of Dramatic Arts. This photo is from a workshop enigmatically titled "Abstract lipsync". The objective was to match stop motion animation with prerecorded soundclips in a playful way: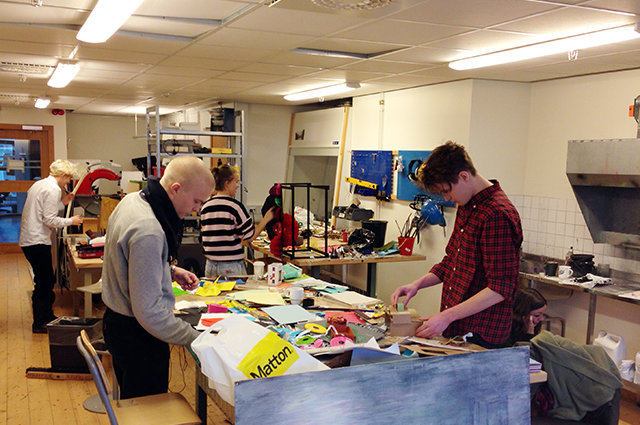 The students produced some really neat films, in my opinion. Four examples below:

Films made by (left to right): Karin Drake, Sarah Gampel, Mimi Fürst and Julia Helander.
Workshop at "Muthesius Kunsthuchschule" in Kiel
This workshop was titled "Build a world in a week" – A group of 20 students from various programmes including photography, fine art and graphic design spent a week building up a landscape in one of the school's studios. They then animated a seasonal change – from winter to summer – within that landscape.
Some photos below:
And here's the final result!
(I highly recommend scrubbing back and forth along the timeline…)